The Ionian Islands in Greece
We have cruised at many different parts of our world, as well as most areas of Greece and the Mediterranean. The Ionian Sea is definitely one of the best and most idyllic! Crystal clear turquoise waters, charming little villages, spectacular countryside and a pleasant north westerly breeze which rarely exceeds force 5, make it a sailor's paradise!

The Ionian Sea is located at the western side of mainland Greece and stretches all the way from Corfu in the north to Zante in the south. It is one of our favorite cruising areas, so we'll try to describe the islands for you here, although it's difficult to put in words their real beauty!
One thing that makes the western side of Greece different is the lush vegetation, which consists mostly of olive groves, vineyards, a variety of fruit trees but also pine and cyprus forests. And all that, thanks to the high rainfall that this area receives in the winter, between November and March.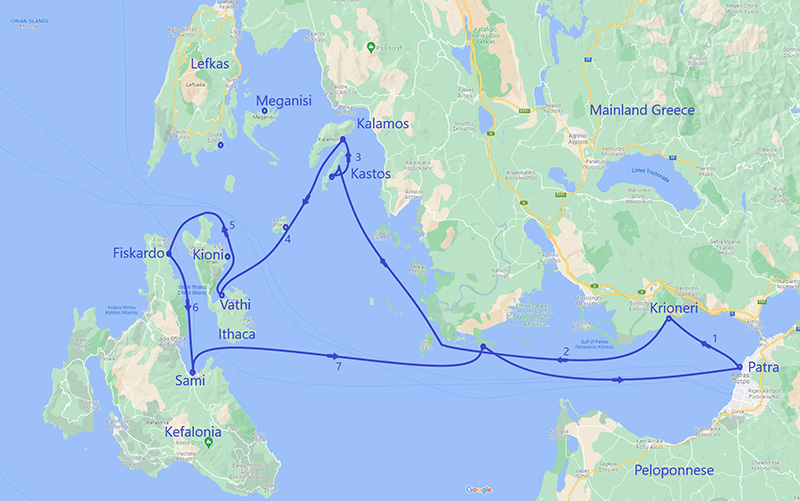 Typical central Ionian Islands itinerary
With the exception of the two bigger and more touristy islands (Corfu and Zante), the rest are off the beaten track and the best way to visit them is by yacht, as they don't even have ports or airports. The locals who are mostly fishermen and farmers are very laid back and friendly, so we are not surprised when we often hear our guests mention that during their evening walk they were invited by an old lady to her garden for a cup of coffee!

For our cruises we have chosen Patras as our base, because it is very conveniently located close to the beautiful Ionian Islands and at the same time is close to Athens airport. From here we have a few nice options for your itinerary:!
• Central Ionian Islands: This is our recommended route for a relaxed holiday as there are many small islands to visit, the distances between them are small and there are numerous secluded coves with amazing crystal clear waters.

• Central and Northern Islands: You can explore the Central Ionian Islands and also Paxi and Antipaxi which are further north. This route is more suitable for those who would like to sail longer distances and don't mind the bigger swell of the northern Ionian. It is doable in one week, but two weeks are recommended for this route.

• Antiquity cruise: This is an ideal cruise for those who love archaeology, as you will visit two of the most important sites of the ancient times; Ancient Olympia and Ancient Delphi.
The car/minibus ride from Athens to Patras port is just 2 hours (2 1/2 hours by bus) on the new motorway and if you have a few extra hours to spare, a small detour to the magnificent site of Ancient Olympia is really worth, as you will see the birthplace of the Olympic games and the site where every 4 years the Olympic flame is lit.
The history of the Ionian Islands also goes back a few thousand years, so there are a few archaeological sites in the area, although they are not as big and important as the ones you would find on the Greek mainland.

Rather than big and impressive temples, archaeologists in this area have discovered mostly objects and smaller buildings. An island well known for its ancient history is Ithaca (the island of Homer's Odysseus), where you can visit the small museum with all the findings from the excavations, but also the remains of the palace.
Since we started our crewed yacht charters in 2004 we have cruised all the island groups of Greece, the Caribbean and Thailand and we have concluded that the Central Ionians are the perfect  cruising ground, as they offer an ideal combination of relaxation, good sailing but never uncomfortable, beautiful scenery, a taste of culture and cuisine and amazing emerald waters to swim in.
A FEW SUGGESTED ITINERARIES
What makes the Ionian Islands an amazing sailing area, is that there are so many villages and bays to visit which gives us numerous options for the route to follow.

It doesn't really make much sense to try and show all the possible itineraries in this page, but we listed just a few below so that you can get the general idea. On 'whole yacht' bookings you can spend one or more nights in a bay instead of mooring in a village.
Our suggested itineraries below take into account the prevailing wind directions, distances between the islands, best swim stops and are ideal for a relaxed cruise, combining a few hours of sailing per day, a few hours in a bay for swimming and a few hours on the islands every evening.
On Saturday evening you will be welcomed onboard your yacht by our team with a refreshing cocktail. After showing you around the yacht and your cabin you will have time to settle in, before continuing a bit later with a short safety briefing. We will then all sit around in the salon enjoying some mezes (Greek tapas) and bubbly wine, while looking at the itinerary on the chart and getting to know each other.

Setting sail on Saturday evening we will head to the small fishing village of Krioneri, where we will moor for the night and during your cruise with us we will explore the beautiful Ionian Islands spending each night at a different harbor, finally returning to Patras on Friday evening for disembarkation at 9 a.m. on Saturday morning. If the evening breeze is not suitable for sailing on Saturday evening, we will spend the first night in Patras and return the following Saturday morning instead of Friday evening.


The itineraries below show the harbor we will visit in the evening each day, but not the bay we will anchor for swimming/snorkeling and lunch as there are numerous options.
A
1 week - Central Ionian (relaxed cruise)
Sat
Embarkation at 5 p.m. and sail to Krioneri
Sun
Vathy on the Island of Ithaca
Mon
Kioni on the island of Kefalonia
Tues
Fiscardo on the Island of Kefalonia
Wed
Kastos
Thur
Kalamos
Fri
Arrival in Patras in the evening
Sat
Disembarkation at 9 a.m.
145 miles in total
B
1 week - Central Ionian (relaxed cruise)

Sat

Embarkation at 5 p.m. and sail to Krioneri
Sun
Kioni or Vathy on the Island of Ithaca
Mon
Sami on the Island of Kefalonia
Tues
Fiscardo on the Island of Kefalonia
Wed
Vathy on the Island of Meganisi
Thur
Kastos
Fri
Arrival in Patras in the evening
Sat
Disembarkation at 9 a.m.
170 miles in total
C
1 week - Antiquity Cruise (longer days at sea)
Sat
Embarkation at 5 p.m. and sail to Krioneri
Sun
Galaxidi - visit Ancient Delphi in the evening
Mon
Trizonia
Tues
Katakolo
Wed
Visit Ancient Olympia
Thur
Agios Nicolaos on the Island of Zakythos
Fri
Arrival in Patras in the evening
Sat
Disembarkation at 9 a.m.
235 miles in total
D
1 week - Central/

Northern

Ionian (longer days at sea with bigger swell)
Sat
Embarkation at 5 p.m. and sail to Krioneri
Sun
Kioni on the Island of Ithaca
Mon
Mongonisi on the Island of Paxi
Tues
Gaios on the Island of Paxi
Wed
Antipaxi
Thur
Fiscardo on the Island of Kefalonia
Fri
Arrival in Patras in the evening
Sat
Disembarkation at 9 a.m.
230 miles in total
E
2 weeks - Central Ionian (relaxed)
Sat
Embarkation at 5 p.m. and sail to Krioneri
Sun
Kastos
Mon
Kalamos
Tues
Lefkas town on the Island of Lefkas
Wed
Vathy on the Island of Meganisi
Thur
Vathy on the Island of Ithaca
Fri
Kioni on the Island of Ithaca
Sat
Fiscardo on the Island of Kefalonia
Sun
Cove of Atheras on the Island of Kefalonia
Mon
Sami on the Island of Kefalonia
Tues
Poros on the Island of Kefalonia
Wed
Agios Nikolaos on the Island of Zakynthos
Thur
night in a secluded cove on the Island of Kefalonia or Zakynthos
Fri
Arrival in Patras in the evening
Sat
Disembarkation at 9 a.m.
270 miles in total
F
2 weeks - Central/Southern Ionian including Ancient Olympia (relaxed route but 2 longer days at sea)
Sat
Embarkation at 5 p.m. and sail to Krioneri
Sun
Kastos
Mon
Kalamos
Tues
Lefkas town on the Island of Lefkas
Wed
Vathy on the Island of Meganisi
Thur
Vathy on the Island of Ithaca
Fri
Kioni on the Island of Ithaca
Sat
Fiscardo on the Island of Kefalonia
Sun
Cove of Atheras on the Island of Kefalonia
Mon
Sami on the Island of Kefalonia
Tues
Katakolo
Wed
Visit Ancient Olympia
Thur
Agios Nikolaos on the Island of Zakynthos
Fri
Arrival in Patras in the evening
Sat
Disembarkation at 9 a.m.
336 miles in total
G
2 weeks - Central/northern Ionian. (relaxed route but 2 longer days at sea with bigger swell)
Sat
Embarkation at 5 p.m. and sail to Krioneri
Sun
Kastos
Mon
Kalamos
Tues
Vathy on the Island of Meganisi
Wed
Lefkas town on the Island of Lefkas
Thur
Mongonisi on the Island of Paxi
Fri
Gaios on the Island of Paxi
Sat
Laka on the island of Paxi
Sun
Antipaxi
Mon
Cove of Atheras on the Island of Kefalonia
Tues
Fiscardo on the Island of Kefalonia
Wed
Vathy on the Island of Ithaca
Thur
Kioni on the Island of Ithaca
Fri
Arrival in Patras in the evening
Sat
Disembarkation at 9 a.m.
258 miles in total